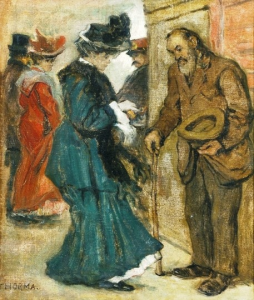 (Matthew 6:1-6; 16-18)
It is very interesting to note how much emphasis Jesus places on the social context when he teaches his disciples. No matter how personal the actions, thoughts, attitudes may be, Jesus does not forget to show that they should not be considered without thinking about the context in which we live, the people around us. In the text chosen as the basis for today's meditation, we have three actions presented by Jesus: to give, to pray, to fast. From the beginning we can realize that the first action – to give – is obviously related to the social context, but what does the other two have to do with it? Let's take them one at a time.
After the fall of the communist regime in Romania, the country faced an extremely difficult phenomenon to eradicate: high-level corruption. I know that other countries are also facing this phenomenon, but I know very well the situation in Romania and that is why I will refer to it. The population knew this very well and yet much of it voted for the same publicly proven corrupt people. Corrupt politicians knew this and displayed their fraudulently obtained wealth but also organized all kinds of charitable actions in which they looked very good to the poor. There have been all kinds of media campaigns in which people have been helped to understand that what those politicians give them is also stolen from them, by embezzling the country's wealth. They are not goods obtained through clean business. Many times, the answer was downright absurd: "Yes sir, they steal, but they also give us from what they steal." But what they were giving them was a hoax used only when they were waiting to be voted on again, so that their leaders would remain for another period and be able to steal without being punished. They managed so well to make people believe that they were the greatest benefactors.
We know very well how Jesus described those who made the law in his time, the Scribes, the Pharisees and the Sadducees: the devourers of the houses of widows and orphans (Mark 12:38-40; Luke 20:46-47). Moreover, Jesus presented them as an example of what one must not do to be a good disciple. Jesus condemns hypocrisy as one of the greatest evils.
Jesus makes it clear that giving alms means sharing what you need with the one who does not have it. It is clear to Jesus that giving of what you have more than you need anyway is a duty. It is social fairness. In both situations, giving alms or offering from our overflow, we must act with humility and discretion. The only motivation must be to do good to the other not to gain appreciation or any kind of material or spiritual gain through our actions.
Once we understand what it is like with alms-giving and giving, it is easier to understand what it is like with prayer and fasting. And when it comes to prayer, and when it comes to fasting, Jesus presents the Pharisees, Scribes and Sadducees as a negative example, as a presentation of what a good disciple should avoid at all costs.
It is simple here to draw a parallel to what is happening today. Great industrialists, farmers, politicians, leaders of any kind, celebrities for whom a few million are like a child's pocket money presents their charities as who knows what effort to make others happy and not as a social debt to communities and the world in which they gained their wealth. And then, if not with the Bible in hand, they show up at big religious celebrations so that they can be seen, so that the world knows how good they are and that they pray for all, for society. And for the show to be full, they do it in such a way as to attract the attention of the media, which will make their action public. And for everything to be fulfilled, when the liturgical times prescribe fasting, they present their diets as true acts of fasting, as a sign that they have begun to work on their spiritual cleansing. And here we know how Jesus presents the act of prayer and fasting.
They are actions of love, necessity and duty to the other who needs our prayer, but also our spiritual renewal through fasting to understand where we have not acted well and to see what needs to be done to act better and correctly in relationship with the other, in relation to God.
Alms-giving, giving, prayer and fasting are acts done personally, but with profound social consequences. Jesus excludes hypocrisy or petty interest from all this.
Here the proverb is right: the devil hides in details. In the same details is found the good as well. The disciple of Jesus, the Christian is wise and knows how (see Matthew 10:16) to give alms, to offer, to pray and to fast in order to receive the reward for these acts. Through the wise way of fulfilling his actions, the Christian is called to change, to transform the society in which he lives, in the same time of the self-transformation.
(Revd. Bernard Noghiu – Southend on Sea, 9th June 2020).