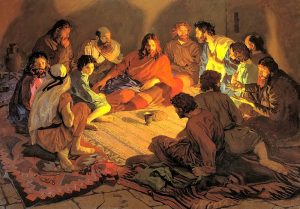 The Gospel appointed for this Sunday is taken from John. It is a fragment, part of Jesus' message given to his disciples in the last supper's night. Jesus is talking about his death. Judas has just left to prepare for his betrayal. Peter will betray him, even though everyone knows how much he loves Jesus. It's a funeral atmosphere. It's as if they are now burying their hopes, the future they dreamed of so beautifully. The pain blocks their minds from seeing clearly. For Jesus, they gave up their peaceful lives. For him they chose to wander the paths of Judea. For his message, they followed him, rejoicing that, finally, there is hope for those who no longer believed in it. And now?
Jesus makes a promise to them, but it comes with a challenge. "If you love me, you will keep my commandments. And I will ask the Father, and he will give you another Advocate, to be with you forever." It is Jesus' way of saying that everything they have done so far has not been in vain, everything they have hoped and done does not end here. But for each of them, it depends on them.
Jesus does not comfort them using sentimentalism, but reminds them of his teaching, which he presents as a set of commandments. The expression of their love for Jesus is the fulfilment of his teaching, of his commandments. For Jesus, tears, sacrifices are less valuable than fulfilling his teaching, keeping his commandments. In their fear for their personal future, for the future of their small community, for the loss of their hopes, the disciples became sentimental, they were overwhelmed by a bitter sadness, by sorrow. Jesus does not teach a long lesson for the time when he will no longer be with them, but he reminds them how their hopes, their mission, their life can continue. Fulfilling his teaching and obeying his commandments is the way they prove that they love him. And the proof he loves them is the promise that they will not be left alone, but will receive an Advocate.
Some translations of the text use the term Advocate, others Comforter, for the Spirit. These two terms together express in the best way the promise of Jesus. The Spirit is Comforter and Advocate. The Spirit is Comforter in distress and sorrow, in worries. The Spirit is Advocate. He pleads the disciples case, he takes care of their concerns. Asking them to remember his teaching and to keep his commandments it is a calling to duty. It is a calling to awake from sadness, worries and doubts. It is a calling to act following his teaching.
The disciples situation after the Last Supper it is quite similar with our situation, today.
We are sad, in sorrow. We worry about what will happen from now on, what our life will look like from now on. We wonder what our communities will be like from now on, what the Church of tomorrow will look like, what our ministry will be like in the new conditions. Jesus has only one answer, which comforts us, but also calls us to duty: follow my teaching, keep my commandments.
In conclusion, I would like to present the story of a friend of mine. He lives alone. Two weeks ago he was worried because he no longer had a job and did not know if he was entitled for government help. For a while he showed no sign of life. I started to worry about him and I was trying to call him. But he did not answer. Last week, late in a evening, I received a message. It was from him. "Hi Bernard. I'm sorry I did not keep in touch with you. I fought with myself to make a decision. I thought it was time to stop worrying. You know I'm young and healthy. I read about the need for people on farms. In two days I decided and now I work on a farm. I feel useful, I also earn money, I also have friends here. I feel like I'm where it's needed."
Jesus wants his disciple to be where it is needed, he calls us where it is needed. When we are tempted to worry too much, let us ask ourselves where we are needed, where we must fulfil Jesus' commandments, as a sign that we love Him. He promised to take care of the rest and we will have a comforter and an advocate with us: the Spirit of truth.
(Revd. Bernard Noghiu, 14th May 2020, St. Mary the Virgin, Prittlewell, Southend on Sea)