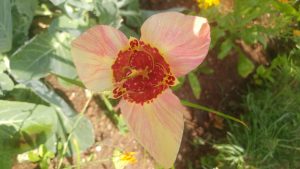 I wanted to try with new flowers in my garden. The flowers in the photo on the bag of bulbs looked fantastic. I planted them in a long row on the space between the grass bed and the pea line. Later, ribbon-shaped fragile leaves appeared. Hardly, among the first two leaves, a fragile stem began to rise with a sharp bud at the top. Then the first flower. I discovered it early in the morning, when I was watering the garden. It was a fantastic flower. I wanted to show my wife too, but she had already left home. She was to return by noon. When she returned, I asked her to follow me to the garden to show her something special. The flower was already gone. But I managed to show her the next flowers that appeared.
The shorter the life of this flower, the more beautiful it is. I almost wonder why so much energy investment to produce such a beautiful flower if it has such a short life.
Thinking about this while admiring a new flower on another plant, a verse from Psalm 8 came to mind: "What are human beings that you are mindful of them, mortals that you care for them?" (verse 4).
If God has invested so much beauty and energy in a flower that lives for a couple of hours, what can I say about a human being? About you, about me …