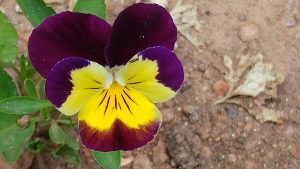 In September 2019, I was very happy when I saw that the house I was going to move to had a garden. But the garden had no trees, shrubs, bushes or flowers, only grass mixed with weeds. Later, a neighbour told me that the family that lived there before me did not go out in the garden at all. The weeds grew freely, and from time to time they were mowed, when the neighbours began to complain about the large number of mice and rats that made their living there.
On my first day off, the first thing I did was buy gardening tools and a lawn mower. I mowed the grass (or rather the weeds), spread new grass seeds with a nutritious substance and then I started digging around the garden to a width of almost 2 meters. Thus appeared a good space for planting. Until the following spring the garden had roses, camellia bushes, gooseberry, blackberry, potatoes in the ground and all sorts of seeds waiting to grow. Among all this, I have never sown or planted pansies.
This morning (after 3 years we moved in) I went to check if the parsley leaves had grown big enough to be cut and ready for winter. Between the two rows of parsley sown this year, I saw a flower as small as the tip of my thumb. The flower had a special combination of colours: purple, yellow, black iridescence over yellow and white. It's a pansy. It's so fragile, but so beautiful. Its presence enriches that place, until today only green.
When life seems meaningless or when we feel too tired, if we stop to look deeper you can discover small but very important things that are worth enjoying as we live. Things, people, events that make our lives fuller. colourful, when we think everything is just gray.
Sometimes, it may be hard to feel that, but we always have something, no matter how small, to thank and to rejoice for that: "You (God) have turned my mourning into dancing; you have taken off my sackcloth and clothed me with joy" (Psalm 30:11).