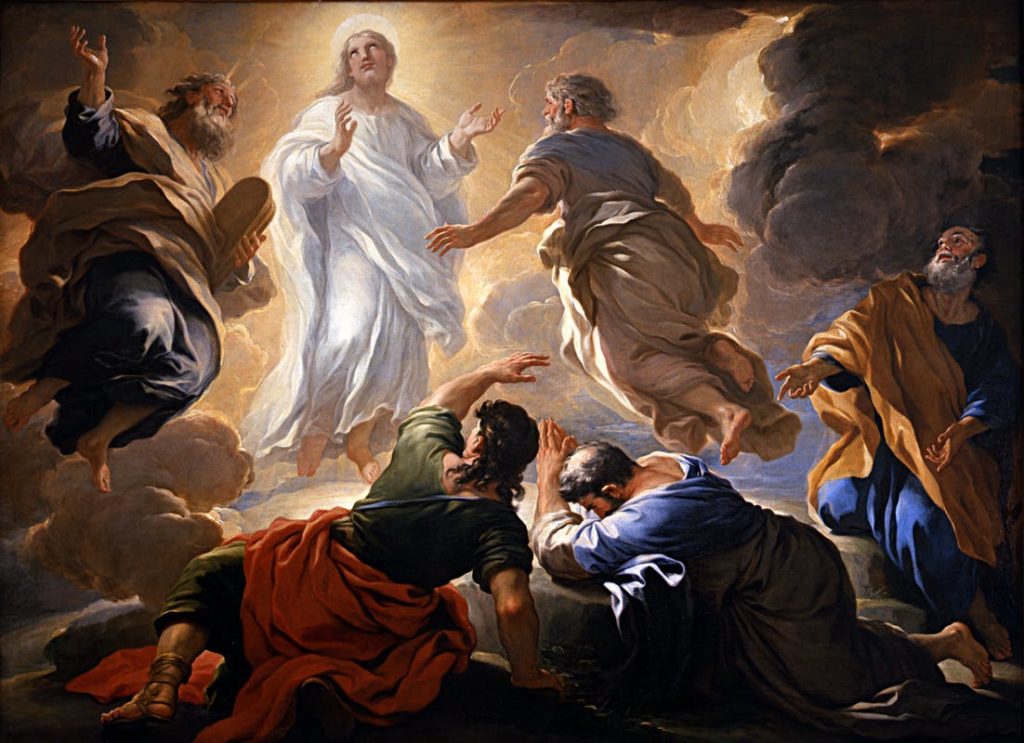 Exodus 24:12-end; Psalm 2; 2 Peter 1:16-end; Matthew 17:1-9
I don't know how. I just feel it.
In the last Sunday of my activity as priest in the Roman-Catholic Church, in the lunch time, the vicar was called by a family and was said to him that their grandmother is dying and she wants to confess and to receive Holy Communion. The vicar said to me: "You are still in this house then you should that. Go and visit the dying lady and give her Communion". I went to visit the family.
I did the Holy Communion service in the dying lady's room, with the other members of her family. Instead she confessed before the Holy Communion, she asked her family's members to leave the room because she wants to say me something. I was putting together the things used for the celebration. I observed that she was trying to touch my hand. I took her hand. Then she said to me: "You are sad. Do not worry! I have to go now." She smiled to me and died. I was sad because some people were angry against me, misunderstanding my decision. I lost a lot of people who I considered being friends.
Jesus lives with his disciples in the same world, under the same Sun, and the same sky. They speak the same language. Instead of that, Jesus wants to prepare his disciples for something special. He is speaking to them about those special things, but he knows that it is not enough. He wants to make them special witnesses, he wants to help them to "taste" those realities.
Peter, James and John – today's Gospel said to us – followed Jesus on the mountain. Nothing special. They know that Jesus likes to pray in quiet places and on the mountains, on the hills' tops. They just followed him. Once Jesus started to pray, something special happens: his face is changing; Moses and Elijah are there; chatting with him; a voice from above declare that Jesus is his beloved son!
How good it is to be here! How good it is to see and hear that all what Jesus said is true. There are Moses and Elijah who are showing that it is true everything about Jesus, everything what was said about him, in the Law and in the Prophets, and the voice confirms that. They don't know how Moses and Elijah came there, how Jesus' face changed, what kind of power did that, they didn't see the source of that voice. They simple are helped to believe. Their were happy to remain there. It wasn't Jesus' intention. His intention was to make them witnesses of his entire life and mystery. And this life and mystery will fulfil trough the way of the cross. This moment is a moment of preparation to help them do not lose their faith. They have a hard job to do. For that they need some help. It is easy to speak about Jesus in happy moments, joyful moments.
It is not the same when we are in hard moments in our life. For these kind of moments Jesus wanted to prepare his disciples, actual ministry as well.
Do you remember what happened to Moses after he stayed on the mountain? That mountain about is speaking our first reading. His face was shining because of the experience he had in the presence of God. Despite this, in heavy trouble, he doubted and couldn't go in the promise land.
Peter says us, in the second reading, that he was witness of Jesus' majesty. Despite this, he fled when Jesus was crucified. It was hard for him to resist to that ordeal and do not be shacked in his feeling about Jesus' identity and Jesus' teaching. But he is witness. Moses, Peter, all the other disciples have a story to say about what they are witnesses. It doesn't mean that they never misbehaved in their job, ministry.
I was asked to speak more about my life and experience, how God, Jesus blessed me and so on. When I try to do that I am feeling ashamed in the front of those who are experiencing the way of Jesus' cross. Am I with them in those moments? I know that today's society like the glorious stories. I don't have glorious stories. Even when I want to say one I find myself so close to somebody who is climbing the cross. He need me to speak to him/her as a witness about God, about Jesus as a real witness of his presence and love in those hard moments. So often I can't. I just can stay with him or her.
Do you remember my story from the start of my sermon? On the way to the dying lady's house, I was preparing myself to be with her in the dying moments, but she was the one who staid with me in those moments. And she make me to witness that God was there. It is only one story. But I can be easier witness of God's, Jesus' presence in the hard moments than in the glorious ones. Then I needed him and he was there. Though, so often, I discovered that not right then, but long after.
Today we are speaking about ministry, about vocation in the Church, about good witnesses of God. We don't need witnesses to show us how blessed they are and how happy is their life because God love them in a special way. We need witnesses to say to the world, to us that God, Jesus is where and when we are feeling so alone, so hard pinned on the cross. Here, the today's people want witnesses to be with them, in this kind of situations, in their distressful life. Trough these presence the ministry can bring joy and love to the others. They can witness about Jesus' love.
Moses doubt, Peter fled. There is no ministry without this experience of fleeing sometimes because of their doubts. Jesus continues to call us to be witnesses, to be with the others to speak about him. This is the ministry. It's about staying with those who are in need. It's about to be able to speak about Jesus. I invite you to pray today and ask Jesus to send us this kind of witnesses, people called for ministry within his Church.
(Sermon delivered on 23rd of February, 2020, in the St.Mary's Ancient Church, Prittlewell, Southend)