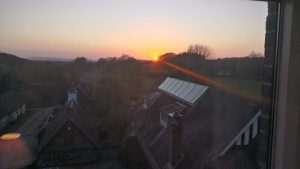 The red sunset, a border to unknown times,
I was immersing him in my soul
And I chewed it with endless dreams.
Foreign sunset of the cold autumn in searching,
A goal in extinguishing the end of the day,
A beginning of prayer, an eternal calling.
I didn't dream and I didn't want to then,
I don't want to and I still can't dream
A place with a name in the thousandth sunset.
Sunset then, sunset now,
Through the beginnings beyond them,
He calls me and gives me a way
To the place with names, to the name of man,
Which my dream dreamer did not know,
Only my moments now smile secretly.
And every sunset in itself carries me
Peace and quiet on departure,
A fruit detached for germination.
(This poem was published on the old blog – bernardnoghiu.wordpress.com – in Romanian, May 25, 2021)